ca pietra blog page
We understand that choosing ca pietra tiles is both an exciting venture, but also a task where you will need to have your wits about you to ensure you get it right first time. Floor and wall coverings can make or break a room, and getting it wrong can be a costly mistake to have to correct. To help you with your decision making, we've pulled together the 10 common mistakes to avoid when buying tiles.
1. Not ordering enough tiles
You've spent time doing the calculations and ensuring you've ordered the exact amount of tiles, only to get to the end of your bathroom or kitchen renovation and realise you're a few tiles short of completing it – definitely one of the most frustrating feelings in the world that's for sure, even more so if you've hired a professional in to fit it!
A common and sometimes costly mistake when ordering tiles online is not taking into consideration wastage and breakages, which is why we recommend ordering an extra 10% to cover this. A small cost for ensuring you have the right amount of tiles to complete your project. Please note, when it comes to laying tiles in a herringbone formation, we recommend ordering an extra 15%, to allow for all of those fiddly cuts that need to be made.
It's also worth noting that different batches of tiles can vary in colour too, so that's why it's even more important to get it right from the get-go, to prevent any mix-match shades in your design.
2. Picking the wrong size tiles
Ca Pietra Tiles come in a vast range of sizes, from 7.5 x 15cm metro bricks to large format 60 x 120cm tiles. Whilst these mean you have the freedom to create your perfect home, picking the wrong size can mean the difference between the success or failure of a project.
The main thing to consider is how the tile will look in the room. A larger room will generally be able to accommodate large format tiles better than a small room like the downstairs loo. Whilst smaller rooms, like bathrooms may benefit from smaller mosaic style tiles better than an open plan kitchen-diner for example.
Another thing to consider is grout lines as these will make an impact on the final result. The smaller the tile, the more grout lines and this can make the space look busy. If lots of grout lines are unavoidable, consider using a coloured grout in a similar shade to the tile to help them flow in more symmetry.
3. Not ordering a sample first
Another common issue is not ordering a sample of your chosen product first. Ordering either a swatch sample (a small cut of the full tile) or a full tile sample (the best for helping you envisage how it will look in your home), will help you to see the true colour, texture and finish on a tile.
We also offer 30 x 40cm samples on our large format tiles, including natural stone. These are particularly helpful in showing the pattern and tonal variations on natural stone products such as limestone and marble where no two are the same.
4. Choosing price over quality
As the saying goes, "buy cheap, buy twice". Purchasing a lower cost but inferior product may save you money initially, however it will inevitably need replacing much quicker than those of better quality.
5. Not planning the layout
Ahead of fitting the tiles, it's important to consider layout and how you would like them to appear, ideally creating a rough design sketch beforehand. Not only will this help you determine how many tile cuts are needed, in turn helping you order the correct amount, it will also help to confirm that you have the right size tiles for the space.
6. Not picking the right tile for the job
Where you are adding tiles will influence the type of tile you will want to go for. For example, is the tile going to be used externally or internally? If externally, is the material weatherproof and slip resistant? If internally, is the tile suitable for heavy foot traffic, can it be used with underfloor heating, does it need sealing regularly or is it light enough to be used as a wall covering? You might love a product but it's so important to check that a tile will work in the intended space, the last thing you want are cracked tiles or stone that is slippery when laid in an unsuitable area.
7. Not hiring a specialist
Installing ca pietra tiles is a specialist job. The skill and experience required for this should not be underestimated, and that's why one of the most costly mistakes you can make is to use an inexperienced tiler. When choosing the right tiler for your project, consider someone who is experienced in the particular material you have chosen. Whilst porcelain and ceramic tiles are most commonly used, large format, encaustic, glass and natural stone tiles can come with their own set of challenges during fitting.
Another top tip is to not book your tiler until you've received your goods to ensure you don't have a tiler sat waiting for nothing to do, whilst still invoicing you for their time.
8. Not factoring in delivery
Once you've decided the right tiles for the space and the right amount needed, it's worth considering delivery time and how the tiles will be delivered. If ordering a large amount, they will likely arrive on a pallet, often meaning curb side delivery if a large hard surface driveway is not available.
Once you receive your order, check that you have all your tiles and that they are in good condition. If you opted for natural stone, please remember there may be some variations in colour, tone and natural character which make them so beautiful and unique to each project. We recommend that you 'shuffle' tiles from different boxes so that you have a uniform effect across the whole surface.
9. Not sealing your tiles
Don't allow your efforts in finding the right tiles for your project be in vain. If you have purchased natural stone, or tiles that require sealing, it is important to ensure you seal them correctly and with the right product for the job.
Our natural stone, encaustic, crackle glaze and terracotta products will require sealing. Once your tiles are installed, you will need to use an impregnating sealant for protection against fading and staining, such as Stone Essentials Stain Block (or for crackle glaze tiles, a crackle glaze sealant). This should be applied after they have been installed and cleaned using Stone Essentials Deep Clean or similar, but prior to grouting, in accordance with the product label. You should apply a second coat after grouting. You could also choose to apply a surface finish such as Stone Essentials Stone Shield or Wax polish as this will offer further protection and give an attractive patina, although in non-wet areas only. This would be applied after grouting once fully dry (around seven days depending on humidity).
10. Picking the wrong grout colour
Not only will grout colour affect the final project result, picking the wrong colour could also affect and even damage your tiles. We recommend using lighter coloured grouts for most products, in particular natural stone, encaustic and terrazzo tiles, rather than black or bright coloured as these can cause staining in the natural pores of the tiles.
Ensure you have selected a grout product that is suitable for use with the material of your chosen tile, and desired joint width. We recommend our Resin Cement Colour Grout, which can be used with porcelain and ceramic tiles, as well as glass mosaic, natural stone, marble and composite materials too.
Stone & Tile types
Stone types
Perfectly Imperfect – the beauty of natural stone means that there will be variations from piece to piece. There is no such things as a "perfect" piece of stone, which is what we love most about the unique nature of our products in this collection.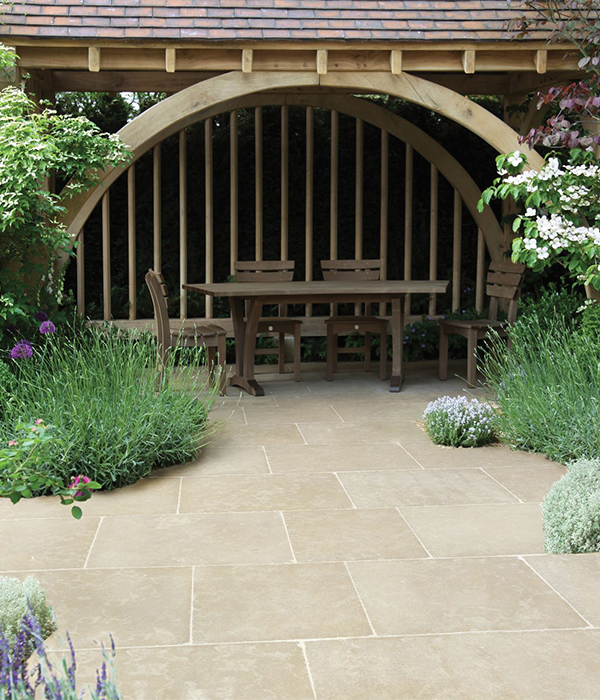 Granite – GEOLOGY
Granite is an igneous rock comprising mineral grains – primarily quartz and feldspar – that are big enough to distinguish with the human eye.
KEY QUALITY
There's no such thing as indestructible, but granite is incredibly hard and durable and, even in its natural state, virtually impervious. Its colour and patterns vary through white, pinks and greys. Limestone
Limestone – GEOLOGY
A sedimentary rock mostly formed during the Jurassic period by deposits of shells collecting on the sea-bed and being compressed over time.
KEY QUALITY
Shell and fossil patterns and an infinite range of shades – usually from cream through to yellow, but also encompassing
white and black.
Marble – GEOLOGY
The geological process that produces the prominent veins and quartz in the surface of marble is called recrystallization. The vivid colours vary depending on the prevalent minerals in the area from which it is quarried.
KEY QUALITY
Very hard and very smooth, with myriad colour tones and markings that are beautiful and mesmerising to look at.
Sandstone – GEOLOGY
A sedimentary rock made up of compacted grains of sand, bound together by a secondary mineral such as calcite, clay or silica.
KEY QUALITY
Hard-wearing, frost-resistant and low-slip make it ideal for outdoors.
Slate – GEOLOGY
A fine-grained rock derived from an original sedimentary rock made of clay or volcanic ash.
KEY QUALITY
The natural, slight undulations in the stone (caused by the way it is split when quarried) give it instant character. The dark colour makes it easy to maintain.
Travertine – GEOLOGY
The stone is a crystallized form of calcium carbonate, or limestone, deposited by mineral springs and characterised by
surface pits and holes when first quarried. These are often filled with resin at source, giving the travertine a much smoother and more refined finish.
KEY QUALITY
'Nature's masterpiece', has been a signature stone of Italian architecture from the Romans onwards. Especially when veincut, travertine has a full range of shades and natural pitting that give it a combination of character and sophistication. Perfect for feature walls and chic interiors. Be aware of variation thickness, finish variation and natural blemishes.
Porcelain
Porcelain tiles are made from a mixture of clays and minerals and fired at a very high temperature. This means that they are extremely hard wearing. Tip: Due to the nature of the manufacturing process, porcelain tiles may be subject to a very slight 'bow' along the length of larger tiles (this can normally be corrected using a specialist clip system). This slight bowing, which will fall within European Standards (and please be assured that all our tiles are CE compliant), can cause slight 'lipping' between one tile and the next. If you wish to minimize the effect of this, we recommend that tiles should be laid square, or staggered by not more than a third of a tile length, rather than laying brick-bond.
Porcelain that is 'non-rectified' may vary very slightly in dimension, which means that a slightly wider grout joint needs to be used. NB 'non-rectified' porcelain products always carry a calibre code in order that tiles can be grouped together by their finished size.
RECTIFIED FINISH
Each porcelain tile is the same dimension, although there
is still a small degree of tolerance.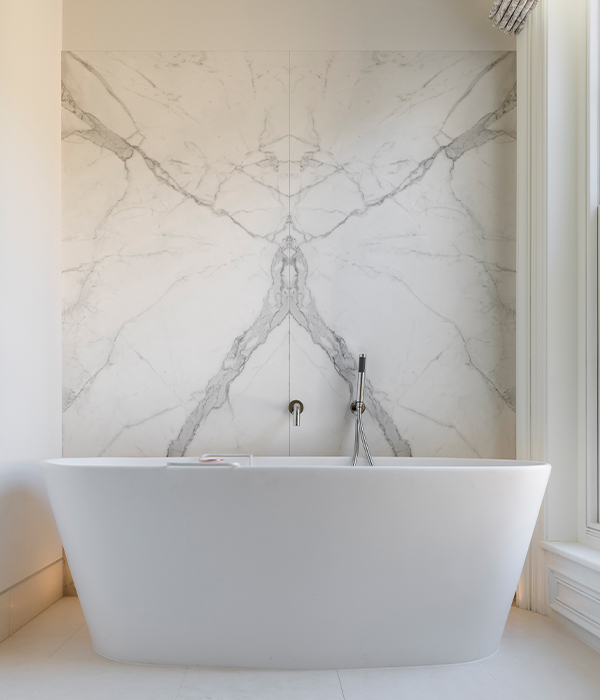 Terrazzo
The same technique is used as encaustic tiles (see left), but
ground marble chips are added to the top layer to add extra
durability and visual effect. Please note this product requires sealing as part of the installation process.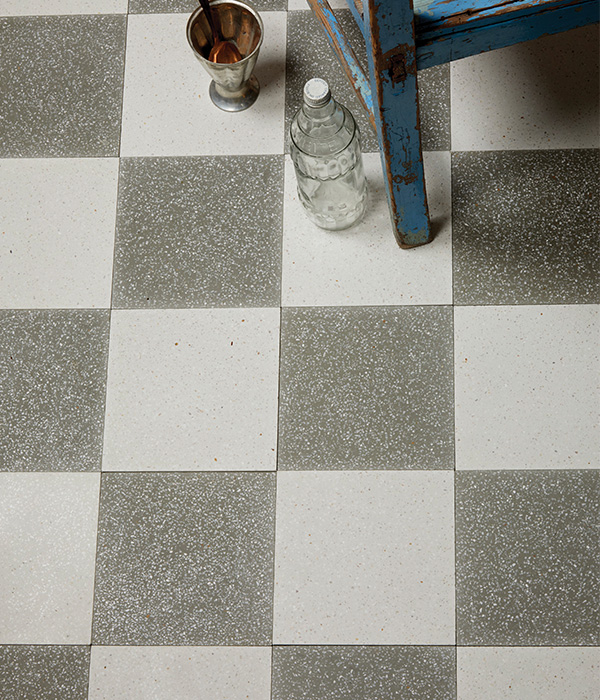 Encaustic
Cement tiles differ from ceramic tiles in that the pattern or figure on the surface is a product of different colours of clay, rather than a glazed application. This is called the encaustic technique, where the pattern is inlaid into the body of the tile so that the design and colour remain, even as the tile wears. Cement tiles will age naturally and develop their own patina with time, like natural stones. Cement tiles are suitable for domestic and commercial use floors and walls. Accept imperfections. A major attraction, is their perfect imperfection. Thickness can vary slightly from tile to tile, as can pigment shadings, and patterns may bleed at the edges when they're compressed, all enhancing their uniqueness. Another reason for their attraction is that they are a 'living' tile that changes over time. Encaustic tiles can be used on almost any internal floor or wall surface as long as the sub-base is suitable and prepared for tiling and weight-bearing because these tiles are a little more heavy than the average wall tile. The tiles can we used in wet areas but it's likely they will fade slightly, especially darker colours and patterns due to the natural pigments used. If the tiles are coated with a thin layer of sealer every one or two years this will reduce, however, it is all part of the natural ageing process. The tiles are not classed as frost resistant so we do not recommend using them in external areas that are exposed to wet and freezing conditions. Please note this product requires sealing as part of the installation process.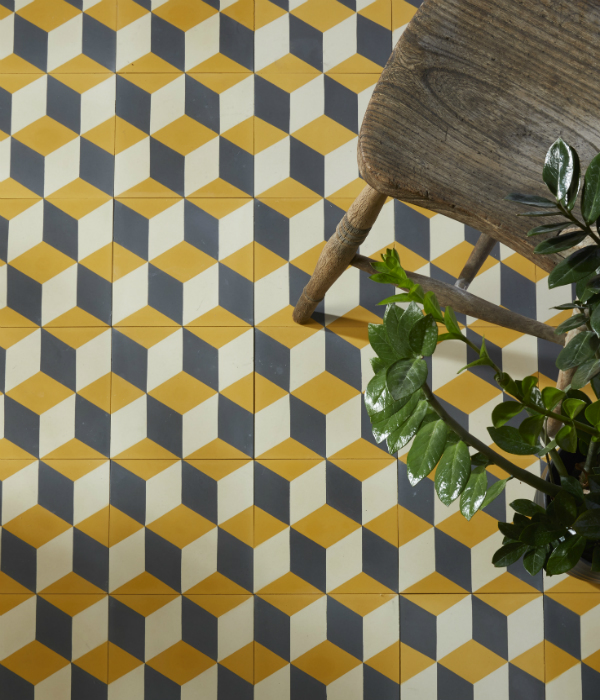 Ceramic
These tiles are then glazed with a base colour and can be then over-printed or hand painted with a pattern. Glazed ceramic is suitable for domestic floors (where specified) and walls. Crackle glaze tiles will require sealing.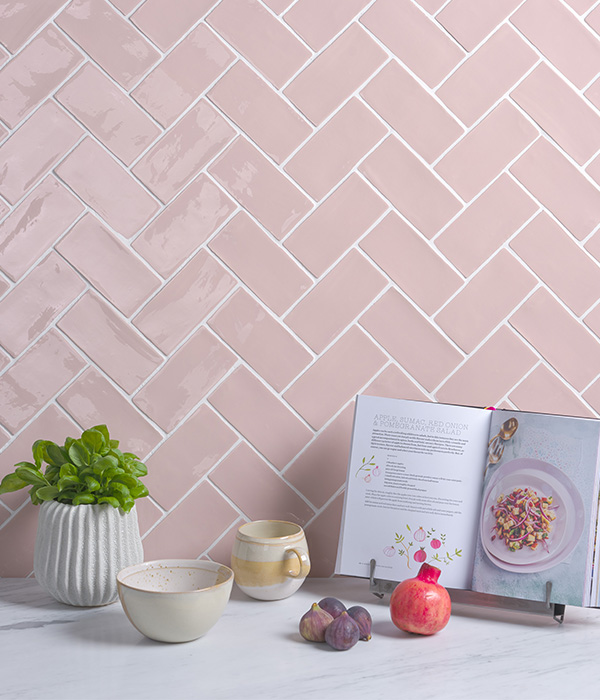 Glass
Glass has its own beauty, but can also be transformed by the natural or ambient light with sparkles, reflections and
fascinating changes of colour. It's easy to maintain and non-porous.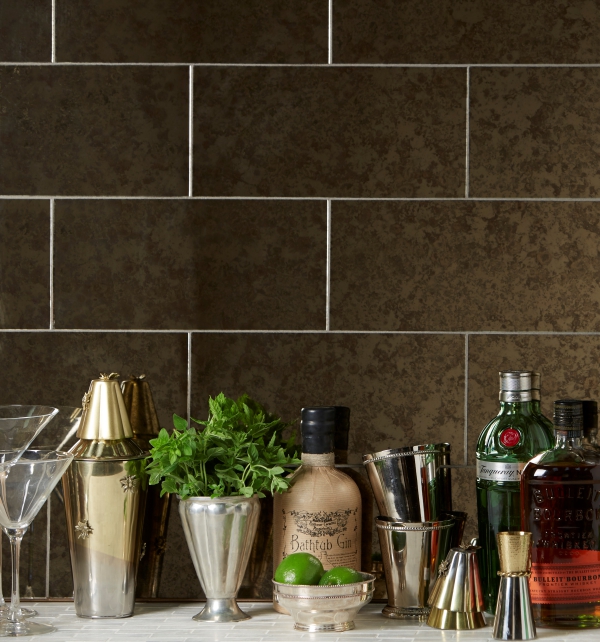 10 very good reasons to choose natural stone
As it gets older, natural stone improves. We call it 'wearing in, not out'. There are not many materials that you can say that about.
By its very nature, every single slab of natural stone is unique. In fact, that is just one of the ways that you can immediately tell the difference between natural stone and compound materials, because there are no repetition of patterns.
There are infinite varieties of stone types, finishes, colours and markings – there's no chance of you visiting another house which has exactly the same floor or wall.
Stone colours and patterns are subtle and under-stated. As a material, it does not visually dominate, so you'll always find it very easy to design interiors around it.
You can use many stones both indoors and out, so you can create a coherent feel for your home and exterior areas.
With modern underfloor heating systems, you can create a very cozy environment with the practicality of a hard floor.
A natural stone floor is very easy to sweep and to clean – especially if you use the right sealants and polishes right from the start. There is no reason for it to ever be high-maintenance.
There is a huge range of prices to suit any budget (especially with Ca' Pietra's commitment to sourcing high-quality natural stone at affordable prices).
Natural stone always has a story to tell – where it comes from, the geological qualities that it possesses, the fossils and patterns, the iconic, historical buildings that used the same type of stone.
Natural stone is durable, beautiful and appealing. It will enhance the value of your home now and long into the future, why invest in anything else?