We have been selling cast iron radiators for over 12 years and are very experienced and are always available to offer advice. We build radiators by the section to give you the length required or the heat output you need.
All our reproduction cast iron radiators are pressure tested to 10 bar and come with a 10 year or Lifetime guarantee. Our range includes a classic and ornate range. The classic range includes The Victorian which is our best seller. Our ornate range is expanding and has 16 different styles. We use Both Carron and Arroll who manufacture our radiators for us.
We deliver our traditional radiators all over the UK, to London daily and worldwide. and delivery is free on orders over £1000
The Picture below shows part of our radiator displays in our showroom, we are proud we have a showroom and fully manned sales office, which many websites do not. As a long established business you can be sure you are buying your radiators from the right place.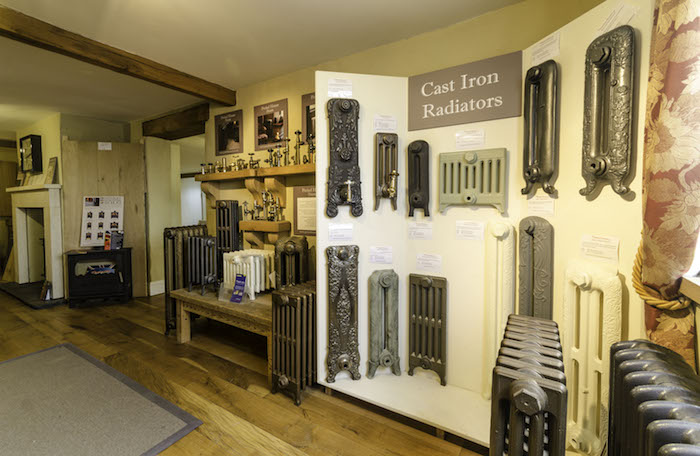 Sarah Hornby - We received quotes from 4 companies for our cast iron radiators. Period House Store came back with the best price, and we are not disapointed with the quality. We were concerned about spening a large ammount on the internet, but you can certainly trust this company.
John Trueman - After much trawling through internet, finally decided on Period House Store after their advice and help in selection of my radiators, their product matches their service, first class.
Philip Glover - I have been looking for months for a victorian radiator that would fit under my study window, the lowest I could find was 460mm. Period House have just added this to their 4 column radiators. A perfect fit for my study.
Experience the many benefits of a cast iron radiator from The Period House Store
A lot of people are pleasantly surprised by the benefits that are associated with cast iron radiators UK wide. Not only are they ideal for period properties because of their antique appearance, but they offer other advantages in the form of energy efficiency and space vs. output.
In regards to the latter, our radiators take up a lot less space when compared with modern radiators such as those made from steel and aluminium.
Cast iron radiators can also help you to reduce your utility bills, as they give far more energy-efficient heat than their modern alternatives. One of the reasons why this is the case is because cast iron holds the heat for a lot longer, and thus your room will stay warm for a considerable period of time once the boiler has been turned off. In addition to this, the heat transfer into the room is far superior to steel.
Many people would also agree that cast iron radiators provide a much more comfortable and ambient heat, as the heat gently radiates over time, whereas steel has a tendency to emit a big blast of heat over a short period of time.
As you can see, the benefits extend much further than appearance, and you will need a top quality provider if you are to take advantage of everything that has been mentioned above. This is why you need to choose the experience of The Period House Store.
Carron and Arroll Cast Iron Radiators World Wide Delivery
As mentioned earlier, we supply the full range of Carron and Arroll cast iron radiators world wide. So, let us tell you a bit more about both brands…
Carron Radiators have been popular for many years, with the company praised for their unique work and ornate designs. Their products are often featured in the press, and most recently you may have noticed that their Duchess radiator was featured in the Multiyork Furniture Ltd Spring TV advert.
Their selection of radiators is varied, and we are proud to have the full range available for you, from simplistic designs to elaborate and intricate ornate victorian designs. There is no way you are going to struggle to find a radiator for your period property from the options that we have for sale. If you can't decide what radiator to go for, don't fret, as one of our friendly and experienced sales team will be more than willing to help you every step of the way.
What about Arroll cast iron radiators? Arroll is another manufacturer with an exceptional reputation in the industry. They are based in Belfast, and they supply traditional radiators with elegant and timeless designs combined with advanced functionality. They describe themselves as a fusion between authentic craftsmanship and classic beauty.
We have a great assortment of cast iron radiators for you to choose from, and, again, there is something for all tastes, all requirements, and all budgets. The attention to detail they execute is exceptional.