Cast Iron Radiator Valves By Period House
Thursday, 11 November 2021 | Admin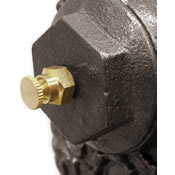 Valves are a vital aspect of any cast iron radiator and they allow you to set the temperature to suit your requirements.
Here at Period House, however, we do not believe that these essential components should just be dull necessities. Instead, we feel that they can add that perfect finishing touch to your new heating solution.
Classic Options
Amberley - The Amberley is one of our most popular models. Its simple design suits a period home beautifully. This piece features a real wooden head and comes in a variety of materials: Black, Polished or Satin Nickel, Pewter, Antique or Polished Brass, and Chrome.
Windsor - The Windsor is similar in appearance to the Amberley and also includes a real wooden head. It differs, however, by being available in a number of different finish options. These are Brushed, Antiqued or Polished Copper, Unlacquered, Burnished or Brushed Brass, and Pewter.
Victorian - This model features a flower-shaped head, somewhat similar to the Rosa model. It is important to consider that the Victorian requires 3/4" (22mm) radiator bushings, however, it may be fitted to 1/2" (15mm) pipework.
Our range of classic radiator valves gives enough choice to complement any of our cast iron radiators. However, should you wish for something more ornate, we also offer several decorative options. Read on to learn more about these.
Decorative Options
Buckingham - This model has been a consistently popular choice since we began selling cast iron radiators. There is an overt French influence, and the angular top perfectly emphasises the graceful curves.
Crocus - Somewhat aesthetically similar to the Abbey, this model is also available in Antiqued Brass and Black Nickel. These darker materials can truly introduce some drama to your cast iron radiator.
Thermostatic Radiator Valve (TRV)/Manual/Throttle (Lever Control)
When deciding upon the valves for your cast iron radiator it is important to consider which type of control you would prefer, whether Manual, Throttle (Lever Control), or a Thermostatic Radiator Valve (TRV).
Manual - Rather than adjusting to air temperature, Manual control has just two settings, off and on.
Throttle - Perhaps falling in between the TRV and Manual options, the Throttle allows the user to have the radiator turned on, whilst being able to adjust the temperature.
Contact Us
To explore our full range of valves and cast iron radiators, visit our website.
Should you have any questions or queries, please do not hesitate to email us at sales@periodhousestore.co.uk or call us on 01748 821 500.