Cast Iron Radiators - Valve Guide
12 January 2023 | Admin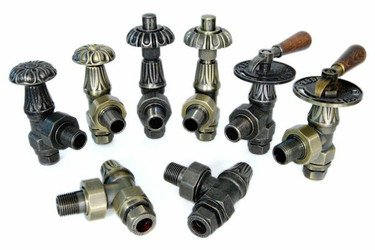 Cast Iron Radiators – Valve Guide
There are two main options available when choosing cast iron radiator valves: manual and thermostatic. While both control the heat from your radiator, but they are different in the way they operate.
Manual Cast Iron Radiator Valves
Manual radiator valves have to be turned to control the temperature, they work on the same principle as a tap by altering the flow of hot water from the boiler into the radiator, the higher amount of water the greater the heat. Once the room has reached the temperature you want you then need to turn the valve down or find a happy medium that suits the room.
Thermostatic Cast Iron Radiator Valves
Thermostatic radiator valves (TRVs) give you much more control over the temperature in your home, like a manual valve, you can set the valve to what temperature you'd like a room to be.
The thermostatic valve 'senses' the temperature in your room and once the temperature you have set reached, it will automatically stop the flow of hot water to your cast iron radiators and prevent them from getting any warmer, wasting heat and energy.
What Are The Differences Between Manual And Thermostatic Valves?
Manual valves are simple to use and are generally smaller in size than thermostatic valves. As they are manual, you have to remember to manually turn them off when you don't need them on. Otherwise, you will be wasting unnecessary energy and money on heat that you don't need. This is where thermostatic radiator valves come in.
Thermostatic valves are the 21st-century radiator valve. They enable your cast iron radiators to manage themselves for the majority of the time. This means that you don't need to worry about having to turn the valve off yourself - the TRV will do it for you. This will prevent you from wasting unnecessary heat and money - benefitting your heating bills and the environment.
How do TRVs monitor themselves? They have an in-built temperature sensor that keeps the room temperature at a constant level - this is a piece of wax or liquid. We recommend TRVs should be installed on your cast iron radiators because they offer improved efficiency and are controllable, it is sometimes advised manual valves are preferred in bathrooms and kitchens as additional temperatures are created which can affect the operation of the TRV.
What are the benefits of thermostatic valves?
Thermostatic valves are much more environmentally friendly than manual valves, at Period House Store our TRV valves are only slightly more expensive but you will save money in the long run. Its also unlikely you need to heat every room in your house so you can set the TRV to a low setting which will take the chill of the room and use less energy saving you money and being kind to the environment.