Introducing A Supplier: Little Greene Paint Company
12 October 2021 | Admin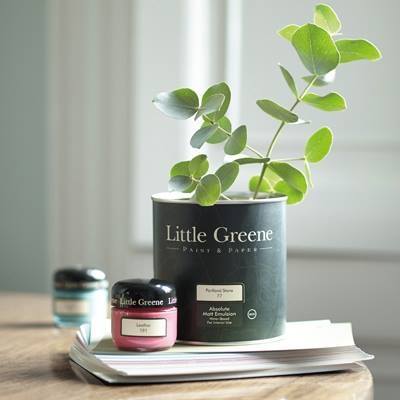 Here at Period House we pride ourselves on the outstanding quality of all the products that we stock. However, impressive standards are not the only reason behind our selections, we also make these decisions based on whether the ethical beliefs of the companies we work with are in tune with our own. We have found this to be the case with Little Greene, and are delighted to have them as part of our family.
About Little Greene
Little Greene is an independent British paint manufacturer who have developed and grown over the past 300 years. They are in fact the only British paint maker that still produces a full range of modern and traditional finishes. This family-run business is renowned for the high calibre of its products as well as its commitment to ensuring that its paint production is both socially and environmentally responsible.
The high grade of Little Greene's bespoke, manually tinted paint is what attracted us to them in the first place. However, it was their commitment to charity work that convinced us that these were the suppliers for us.
October is Breast Cancer Awareness Month and Little Greene has pledged 15p from the sale of each tin of paint and roll of wallpaper via their stockists to breast cancer charities.
We are thrilled to be part of this wonderful cause. Read on to learn more about the charities we are helping.
Breast Cancer Awareness Month
Over the years, Little Greene has donated over £150,000 to a range of breast cancer charities. This year they have pledged all proceeds to four small charities. The Christie Charitable Fund, Keeping Abreast, Breast Cancer Unit Appeal - Yeovil Hospital Charity, and The Breast Cancer Action Group (Wolverhampton and District).
These charities are focussed on providing emotional and economic support to those receiving treatment for breast cancer.
'Our focus with this campaign is to ensure no-one goes through treatment without somewhere to turn to for emotional support. Aided by our fantastic stockists and customers nationwide, I'm confident we will have another hugely successful year raising funds for these precious services.' – David Mottershead, Founder & MD Little Greene.
About The Charities
The Christie Charitable Fund
This charity was founded in order to provide cancer patients with services the NHS is unable to provide. For example, wig fitting, an information centre, an art room and therapy. The Christie Hospital is one of the biggest cancer treatment facilities in Europe, and offering these services helps patients to deal with some of the psychological and physical impacts of undergoing cancer treatment.
Keeping Abreast
Keeping Abreast was established with the aim of helping individuals who are set to undergo a mastectomy, or considering reconstructive surgery. It works to put people in touch with others who are going through the same thing, or have experienced it already. This aids patients in making an informed decision about treatment and is a crucial source of support.
Breast Cancer Unit Appeal - Yeovil Hospital Charity
Currently, whilst undergoing treatment at Yeovil Hospital, patients have to attend multiple locations for biopsies, mammograms, ultrasounds and consultations. Not only can this be an exhausting process, it also means patients must undress in a number of different treatment rooms, which may be psychologically damaging. This charity is working to create a unified treatment facility, meaning that these services can be provided in one place.
The Breast Cancer Action Group (Wolverhampton and District)
Undergoing breast cancer treatment and surgery can be a scary and isolating experience. The Breast Cancer Action Group is a collection of individuals who have been through this experience and, knowing the strain, work to provide members with the opportunity to share experiences, learn from one another and offer some much-needed emotional support.
Contact Us
We are a company with a strong moral compass and this is reflected in all of our practices. Selecting suppliers such as Little Greene is just one example of our commitment to giving back.
Learn more about us on our website. If you have any questions or queries about us, our products or our suppliers, you can submit them here.
Alternatively, you can speak to a member of staff by calling us on 01748 821500 or emailing us at sales@periodhousestore.co.uk.
Learn more about Little Greene on their website and shop all of our Little Greene finishes here.