Our Cast Iron Baths
15 October 2021 | Admin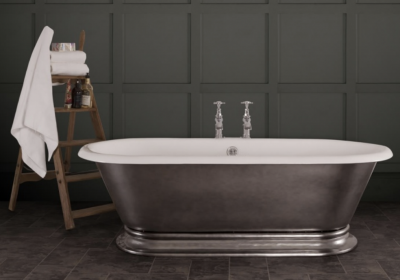 When restoring or renovating a period property it is an important, and often challenging, task to source fixtures and fittings in keeping with the wider aesthetic. Period House was founded with the intention of expediting this process by bringing the highest quality furnishings together in one place.
The bathroom can be a difficult room to finish in a manner in line with the historic décor of a period home. Fortunately for you, we provide an impressive range of beautiful and practical cast iron baths and bathroom accessories.
Practicality And Durability
Whilst our range is stunning, we do not believe in style over substance. Opting for one of our cast iron baths is an investment that will last!
The high grade of cast iron that we use makes our models some of the sturdiest on the market. This quality reduces the risk of dents, chips and scratches.
As well as durability, this quality material retains heat incredibly effectively. This means that you will not have to keep topping up your bath with hot water. Instead, the temperature will be easily maintained for a long period of time. This makes a cast iron bath an environmentally friendly option, which also reduces your heating bills.
Personalisation
A cast iron bath is a stylish and sophisticated statement piece, brimming with old-world charm.
When selecting your model, you should keep in mind that your new cast iron bath is available in a huge variety of colours, allowing you to personalise it to your taste.
Our paint suppliers include Little Greene Paint Company. This British manufacturer works to ensure that all of their products are both socially and environmentally responsible. We also use paint from Farrow & Ball, an internationally renowned company known for its wide range of colours and exceptional quality.
You can select whether you would like the feet of your cast iron bath to be classic white, chrome or painted a colour of your choice. We work hard to ensure that your cast iron bath matches your exact specification.
Accessories
Personalise your purchase further with our range of bath accessories, available in a variety of styles and materials. They can really give your new cast iron bath that extra something special!
These copper freestanding bath taps or bath mixer taps with cranked legs make for an exquisite finish - bold, yet perfectly in keeping with period décor. Alternatively, this sleek wall mounted bath filler, with concealing plate, offers a less decorative, cleaner option. These are just a few examples of the accessories that we have to offer.
Tailor every aspect of your bath to your personal taste with our exposed bath waste options.
Click here to browse all of the bath and bathroom accessories that we supply.
Contact Us
You can view our range of cast iron baths here. Take a moment to explore our other bathroom options, including free standing basins, shower trays and towel warmers, too.
Finish every room of your period property beautifully with Period House. If you have any questions or queries, please submit them here.
Alternatively, speak to a member of staff by calling us on 01748 821500 or emailing sales@periodhousestore.co.uk.