Cast Iron Radiator Ordering Information
As a company, when ordering our cast iron radiators, we will endeavour to fully meet your expectations and work with you as flexibly as we can. We are happy to carry out calculations for you and offer advice as required. You can view our radiators at our showrooms in Richmond, North Yorkshire where we have the Victorian Range of radiators on display, as well as our range of ornate radiators.
Customer service is a strong point of our business, so please don't hesitate to call our sales office in the showroom on 01748 821500 for any advice you require. We would be happy to place your order over the telephone to ensure everything is correct, but you are equally welcome to place an order online.
We have added our ordering information guide below to help you understand the things to consider when placing your order and what to expect when your new radiators are delivered.
Cast Iron Radiators
Please note, unlike many of our competitors, all our cast iron radiators are hand assembled in the UK to your specification. We test each one to conform to BS EN442-1 and BS EN442-2. Most of our cast radiators are guaranteed for life for manufacturing defects.
Our assembly process listed below we believe is the best in the industry ensuring customer satisfaction.
The Assembly Process
The relevant number of sections is picked and assigned to your order. The paint, if required is ordered.
Each section is individually given two coats of paint and left to dry.
When dry the cast iron radiator is assembled.
The cast radiator is then pressure tested.
Once the pressure test is passed the cast iron radiator is given a final coat of paint and left to dry.
When completely dry the cast radiator goes through a final inspection and is wrapped and boxed ready for despatch. At this stage you will be contacted to agree a suitable delivery date.
You can find out more about how our cast iron radiators are built on our guide here.
Painting
Period House Store offer a fantastic range of finishes and colours on our cast iron radiators. In addition to our standard range you can select any of the major paint companies and we can colour match at no extra charge.
Please be aware that colours presented online will vary between different monitors and that printed colours may vary slightly from the actual paint colour. If in doubt a visit to our showrooms is advised or we can arrange for a colour swatch to be sent free of charge.
Dimensions
Working out your radiator widths
Example
Take the section length and multiply by the number of sections you require and add 40mm for the end caps.
Victorian 4 760mm - 10 Section
61mm x 10 = 610mm + 40mm (End Caps) = 650mm (Total Radiator Length)
For pipe centres you need to add the valve dimension depending on the valve you choose, but as a guide add a further 100mm to give a pipe to pipe distance (750mm for the above radiator).
All of our traditional radiators are individually hand cast and assembled, meaning lengths and widths of the radiators can vary slightly, please allow a tollerance of +/- 4%. We advise that you take delivery of your radiators before installing your pipework. Measurements given are a guide only. Unless otherwise specifically requested, radiators will be supplied bushed with ½ inch bushes.
Palletised Deliveries
Our palletised deliveries will be shipped by an independent haulage company using a HGV. When shipped using this method the haulage company will attempt to deliver pallets as close as possible to your main entrance, usually to the closest hard-standing area. The drivers are not contracted to remove items from the pallet, or to carry items into the customer's property due to their insurance. Clients should warn the Company if there is restricted access, or gravelled driveways etc.
Cast iron radiators and cast iron fireplaces are very heavy items and usually need 2 strong people to move them, the larger radiators may need more.
The customer must make sure there is someone in the house on the agreed delivery date. We can arrange for the courier to call you 1 hour before delivery. Our standard delivery times are between 9am and 5pm for timed, and/or Saturday deliveries which can be arranged at an additional charge contact our office to arrange. The Company reserves the right to charge a redelivery fee should a redelivery be necessary. Cast iron radiators are very heavy, please ensure that there is sufficient manpower to unload the pallet.
Product Handling
In order to ensure the safe handling of your radiator please follow the guidelines below.
Cast iron radiators are very heavy, you must ensure adequate manpower is available for moving them indoors, as well as putting them into place. The most common cause of leaks is the strain on the gaskets when carrying the radiator. You must ensure that the radiator is only moved in the upright position once it is removed from the pallet to prevent flexing the seals. The most common method is to support the radiator between the fins by using support bars at each end as illustrated below. If you have any questions or concerns, please get in touch.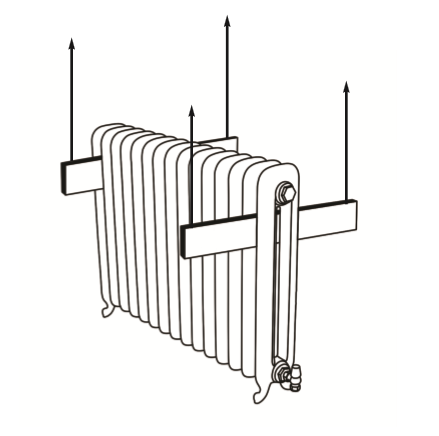 Part Assembly Guide
Our larger cast iron radiators will be delivered part assembled, which enables them to be handled safely. The guide provided below explains the process, which is a simple job for your plumber to complete.